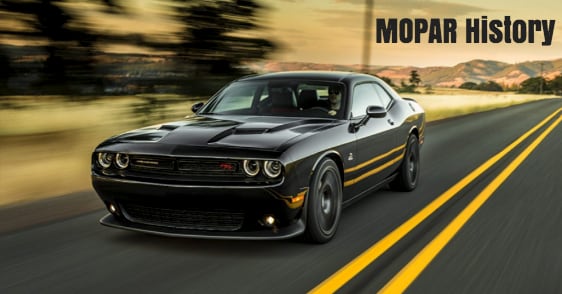 MOPAR has been around longer than all of us have had our license, which is why we wanted to take a trip down history road and clue you in on how it came to be. These parts are exclusive to your RAM and Dodge vehicles and we're excited to highlight them on our blog this month.

It was first introduced as slang in the 1920's (motor + parts = MOPAR). In 1937, the official "MOPAR" brand was created by a committee at Chrysler to label cans of antifreeze from "Chrysler Motor Parts." Since then, it has become the name associated with brands in the Chrysler family and including our favorites—RAM Trucks and Dodge.
While MOPAR is still the official brand of parts for FCA, it has taken on a whole life of its own. To many, it's used to describe a segment of muscle cars—the Dodge Charger and Challenger.
Since MOPAR's inception, they have been involved in performance racing, Formula D racing, and drag racing.
There are 13 MOPAR Custom Shops in the U.S. that install accessories before the new vehicle is delivered to the customer. What's also cool to note is that there are limited-edition MOPAR versions of FCA vehicles. These highly rare and sought after vehicles include exclusive performance features, paint colors, and modifications.
Larry H. Miller Dodge Ram Havana is excited to continue working alongside MOPAR in order to offer the best parts and service possible from the second we welcome people to our dealership. If you're looking to personalize your vehicle, our service center is happy to provide awesome MOPAR parts, simply head to our site. We hope to see you in here soon and enjoy the stunning Spring weather!