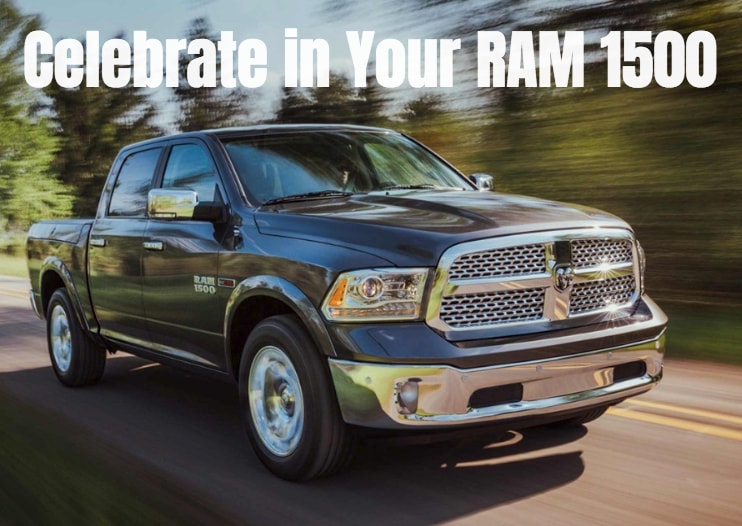 There are special occasions in every person's life that call for something a little special to commemorate it. However, instead of reaching for a dazzling piece of jewelry or planning a weekend getaway, we suggest putting a more original twist on your milestone moment. Drive a special edition RAM 1500 to your celebration, commemoration, graduation, or any other event! Here is a quick style guide on which one to pick for each juncture:
· Graduation. You've worked hard during your school years, whether it's a high school, college, or graduate degree you're receiving. This calls for a cheerful truck that brings celebratory vibes wherever it goes. Say hello to the all-new 2019 RAM 1500 Kentucky Derby® Edition. It's bold, bright, and will be a statement of pride and exuberance.
· First Date. When they see you rolling up in this limited edition, you can count on getting a second date. This luxurious model pairs effortless sophistication with comfort. You'll dazzle them with the sumptuous exterior while enjoing the oh-so-comfortable Canyon Brown and Frost leather seats—can you think of a better first date scenario? We can't.
· Wedding. For this occasion, you likely need a truck that will work on a few levels. First, you need something a little more formal and luxurious. However, durability is also as vital as it is in the pending marriage. This calls for the one and only Limited Tungsten edition. Touted by RAM as "the most luxurious and sophisticated Ram trim available, ever," this is the model that will pave the way for a lifetime of happiness.
· New Job or Promotion. Congratulations! You've finally landed your dream job. Now, you need a truck that's up to the task. The Harvest edition is the model you've been waiting for. It's as tough as nails, versatile, and capable. You can also get it in light or heavy-duty models depending on your specific needs.
· Retirement. You've worked hard your whole life. Now is the time to relax and be bold. The Hydro Blue edition allows you to do just that with a bright exterior, emboldening strength, and a luxurious interior. Take it anywhere you need to go and garner the respect of every driver on the road.
Our team of RAM 1500 aficionados will be more than happy to help you style any other occasion with a fresh new vehicle. View our inventory online or swing by our Surprise dealership to see your automotive closet!