In the Automotive Industry today, you are better off leasing your next car or truck.
The rate of leasing vehicles has grown steadily over the last couple of years. In fact, approximately 30% of new vehicles are leased. This is due to lower costs at the pump, which decreases your cost to own, and affordable monthly lease payments which allow you to get more for your money.

Whether you opt for a larger car or a car with premium features you are among those buyers who realize the benefits of leasing in today's market. Be assured that leasing a vehicle almost guarantees you a lower monthly payment.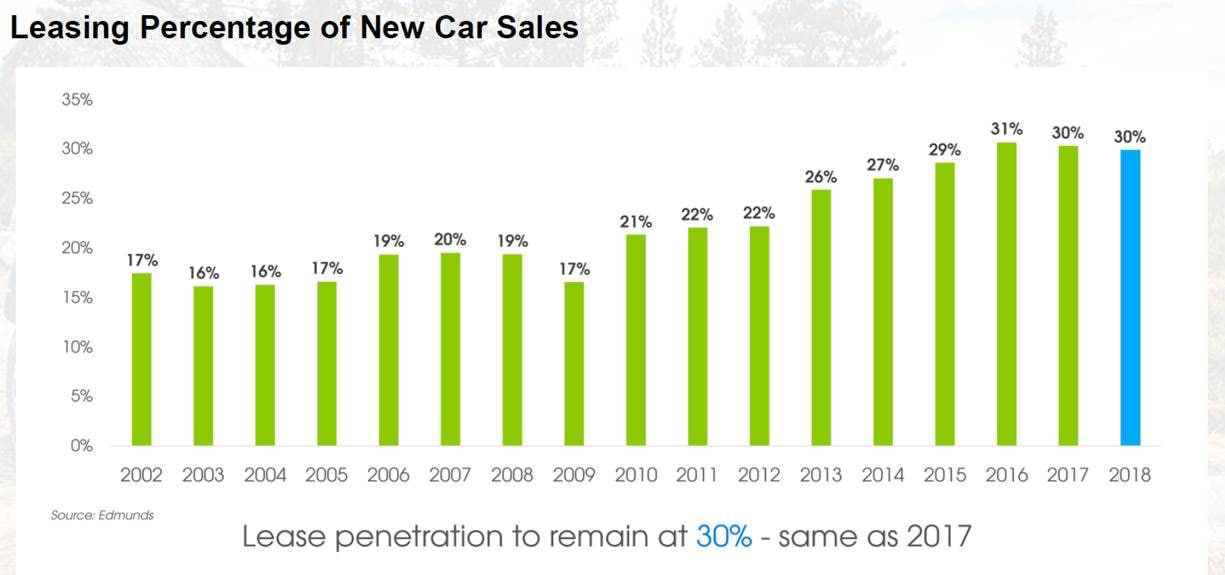 Top 10 Benefits of Leasing a Car | New Chrysler Dodge Ram or FIAT in Denver

1. Take advantage of the latest and greatest technology and safety features
in the most up to date model cars and Ram trucks. 
You can always have a new Chrysler Dodge Ram or FIAT in the driveway. Leasing the latest model provides you with all the models updates of advancing technology and most important the impressive safety features added every year.
2. Lease payment are less than a traditional car payment and with a high interest rate
When leasing a vehicle the payment is less because you are not paying for the entire vehicle, you are only paying for the depreciation on the vehicle. it's like you are renting the vehicle for the length of the lease. Edmunds suggests loan interest rates will continue to increase in the range of 4-7% APR, up from 2-3% APR.
3. Residual is locked in at the beginning of the lease 
Residual value is what the vehicle is worth at the end of a lease. This value is locked in at the beginning of the lease. Model re-designs or demand changes to not affect the value of the vehicle at the end of the lease term. This is probably the single most important tip to a good lease deal, which is to find a car or truck with good residual value.
4. The sales tax spans over the term of the lease 
 Your tax bill will reflect only the leased portion not the taxes on the total value of the vehicle. 
5. Leasing payments are a business expense. 
You can take advantage of tax credits on your business tax return. See IRS publication regarding requirements.
6. Lease obligations will not show as debt on your credit report 
This is a huge benefit for a business owners who buys fleet vehicles, or helpful to those with credit concerns in general.
7. Options for a down-payment
Some lease offers offer no down payment and you only pay for the first months lease payment + taxes and fees. However it's a good idea to make a down-payment since it will lower your monthly lease payment.
8. Manufacturer Incentives
Chrysler Motor Company offers monthly special incentives for leasing a vehicle. These leasing incentives are called lease subventions, or plainly stated it is the manufacturer's assistance with rebates.
9. At lease end you can purchase the vehicle or trade in your vehicle
When the terms of the lease is over, you can either trade-up to a newer models or you can outright buy your "leased" vehicle. 
10. Warranty Coverage for three years
Most lease terms last three years and three years is approximately the same length as the basic warranty on most vehicles. If your lease includes the cost of basic maintenance, your only expense is gas and insurance.
If you live in Aurora, or coming from the Denver area, including Centennial, Littleton and Parker, CO we offer competitive lease rates with 24-72 month lease terms on new model cars & Ram trucks. Stop by our dealership, give a call, or fill out a form, and we will contact you.