Larry H. Miller Denver Dealerships are once again partnering with Channel Nine News to help to make this one of the most successful drives ever! For the past 17 years the Stuff for Students Drive has provided school supplies to less-fortunate kids across Colorado.  The supplies we collect at Larry H. Miller Chrysler Dodge Ram FIAT Denver will be donated to a school in our community and helps to provide supplies to students of family's who struggle to make ends meet.

Over 15 school districts receive supplies based upon the number of students they have in the free lunch program
All supplies go directly into the hands of the students when they are in the classroom
Supplies are sorted and distributed by the Volunteers of America organization
An online monetary donation may also to be made to Volunteers of American on their website link http://www.voacolorado.org/news_and_events/stuff-for-students
If you wish to mail a check, please make it out to Stuff for Students and mail to Stuff for Students, 9NEWS, 500 Speer Blvd., Denver, CO  80203
The costs for basic supplies are estimated at $161.27 for elementary school, and $893 for high school
Because of donors like you, Stuff for Students is able to provide school supplies that stay in the classroom for multiple students to share.
Help us Fill the RAM Truck with School Supplies!  
Make your donation from August 1st through August 31st.

You can make a difference! Every donation helps, just the same as every dollar helps.
Donating School Supplies can have a lasting impact on others, and watch for the lasting impact others have on you. Consider that most people find themselves in need at some point in their lives. 
Today you may be the person with the ability to help, but tomorrow you may be the recipient of someone  else's
cause-worthy donation.
DROP OFF SCHOOL SUPPLIES AT ANY DENVER METRO
LARRY H. MILLER DEALERSHIP

Larry H. Miller Chrysler Dodge Ram FIAT Denver
2727 S. Havana St.
Denver, Colorado 80014

Larry H. Miller Ford
11595 West 6th Avenue
Lakewood, CO 80214
Larry H. Miller Colorado Jeep
350 S. Havana St.
Aurora, CO  80012

Larry H. Miller Nissan
1320 Plum Valley Lane

Highlands Ranch, CO 80129
Larry H. Miller Chrysler Dodge Jeep Ram
1800 West 104th Avenue
Thornton, CO 80234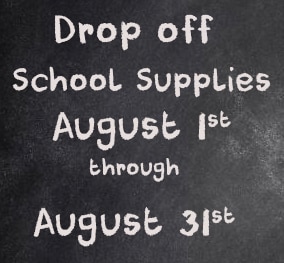 Larry H. Miller Boulder Toyota
2465 48th Court
Boulder, CO 80301
Larry H Miller Nissan Arapahoe
10030 E Arapahoe Rd
Centennial, CO 80112
Larry H. Miller Volkswagen
8303 W. Colfax Avenue
Lakewood, CO 80214
Larry H. Miller Nissan 104th

2400 W. 104th Avenue
Denver, CO  80234

Thank You for your contribution to Stuff For Students.