How do Brakes Work?

Brake systems
come in two forms: disc and drum, and they both work using friction and resistance.
Drum brakes:
The brake system is in a round drum that rotates with the wheel.

Inside the drum are a set of shoes.
The shoes forced against the drum when the brake pedal is pressed.

The shoes are made of a heat resistant friction material.
Disc brakes:
The brakes are setup with a rotor connected to the wheel.

Brake pads squeeze the rotor and cause friction, which stops the wheel from spinning.
In the course of time the friction will wear down the brake pad, which is why they must be checked or replaced on a regular basis.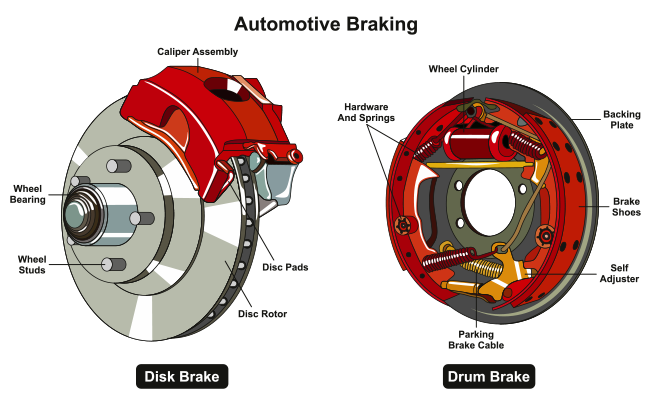 Calipers
apply pressure to the brake and are powered by a hydraulic system:
The hydraulic system consists of a master cylinder, hoses filled with brake fluid, and calipers a.k.a wheel cylinders. 
Brake systems require regular maintenance to ensure safety on the road.

Brake pads can be 8, 10 or 12 mm thick. 
When the pad wears down to 3 mm it needs to be replaced.
Failing to do so can cause damage to your rotors.
Rotors will also wear down over time, and when the thickness is too low to consume the heat, they will have to be replaced.