Looking for the best minivan for you and your family? Well look no further! The 2017 Dodge Grand Caravan is the best minivan on the market today! The Caravan is loaded with an engine that gets you where you need to go, and plenty of options to keep everyone lively along the way. Thinking of getting a new SUV? Don't! There is no point. SUV's are more expensive, and not as comfortable for you and your family! According to
CarGurus.com
, the Dodge Caravan is roomier, cheaper and just as powerful as a comparable SUV. So what are you waiting for? Schedule your test drive for the best minivan on the market today!
1. Mini Vans are faster than you expect.
With a 3.6 Liter Pentastar V6 engine, the days of going 40 mph down the highway are over. Sure, you won't burn a Dodge Demon off the line. But, you will see some giddy up from the 283 horses packed under the hood.
2. Perfect for the whole family, and even a few friends.
The Dodge Caravan holds seven people comfortably. With extended legroom, and cushioned chairs you'll think you're in the living room relaxing instead of out on the open road.
3. You can store more than you ever thought imaginable.
With Stow n' Go seating, the Dodge Caravan offers 140 cubic feet to store anything and everything.
4. Move over tucks, there is a new hauling king in town.
Speaking of all that storage space, the Dodge Grand Caravan is great for moving everyday objects. Washers, dryers, sofas, tables, or beds are not an issue for the Dodge Caravan.
5. Added technology options.
You'll be the envy of your annoying neighbor when she sees your kids well behaved in your Dodge Caravan. With DVD player, Wi-Fi, and outlets for all the kids' devices available, your kids will never misbehave again.
6. Self-opening doors.
The days of opening the door for the kids are over. Simply hit one button to open up the doors of the Dodge Grand Caravan and have your kids fly out by themselves for quick pick-ups and drop offs.
7. Lower insurance rates.
With some of the lowest insurance rates, minivans will save you money on those pesky insurance bills.
8. Tailgating pros.
I know what you're thinking, "A minivan to tailgate with?!" Absolutely. With all that storage, taking people, coolers and a grill are no problem for the Dodge Caravan. Also once you reach the game, flip the third row back for rear facing seats and the best seats in the house.
9. Great value.
 A minivan is cheaper than many competitive SUV options such as the Dodge Durango, Ford Expedition, Nissan Pathfinder and Toyota 4Runner.  The Dodge Grand Caravan is also cheaper than many other minivan competitors.
10. You don't have to own it forever.
Once the kids are grown, you can sell your minivan and buy that new sport car you always wanted. All without having to sacrifice the comfort of your family.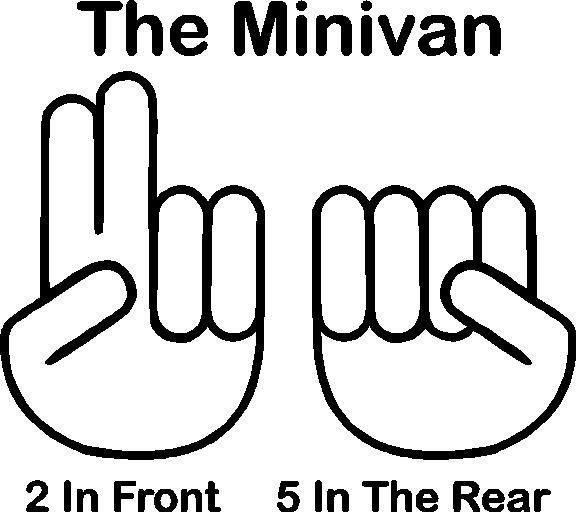 Price Comparison
Dodge Grand Caravan - Starting at $24,995
Dodge Durango - Starting at $29,995
Honda Odyssey - Starting at $29,985
Chrysler Pacifica - Starting at $28,595
Toyota Sienna - Starting at $29,750
Schedule A Test Drive